Clanadonia are delighted to have teamed up with our friends at Edradour Distillery to produce a special edition Whisky: Ballechin Clanadonia Series #1 "Tu-Bardh"…
Buy the Whisky Here
Ballechin is the heavily peated distillation they have been making at Edradour Distillery since 2003. Distilled using barley which has been infused with peat to a level not less than 50ppm.
Clanadonia and Edradour Distillery have a lot in common, not least their commitment to honouring tradition. This first bottling in the Clanadonia Series celebrates Tu-Bardh.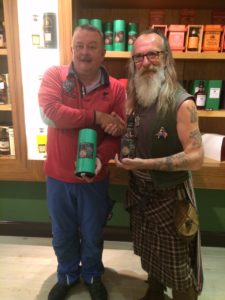 Tu-Bardh Wilson, founder of the band, typifies the band's earthy passion, respect for culture and tradition. These values and the band's ancestral bloodlines are all bonded within their music, which has Scotland at its heart.
This high energy of tribal rhythms, bagpipes and tartan, is performed to all walks of life and cultures.
The tribalising continues…
Slainte Tu-Bardh